Well-known in the case of newborns and COPD patients, the risks associated with hyperoxia also exist in other pathologies such as stroke (CVA) or myocardial infarction5.6.
In the case of myocardial infarction, oxygen therapy is administered as a matter of course, despite clinical data pointing to a potential increase in the size of the infarct owing to coronary vasoconstriction and an increase in oxidative stress.
The AVOID study, recently published in the Circulation journal, demonstrated that during the acute phase of an infarction, oxygen should be administered only if patients present an SpO2 lower than 94% and must be titrated to prevent hyperoxia. Too-liberal use of oxygen may result in a greater increase in cardiac enzymes and an increase in the size of the infarction7.8.
Moreover, numerous publications warn against oxygen toxicity in a pre-hospitalization context, during operations and in intensive care where a recent study published in the JAMA showed that maintaining normoxia in patients receiving mechanical ventilation resulted in a significant reduction in mortality compared with even moderate hyperoxia9.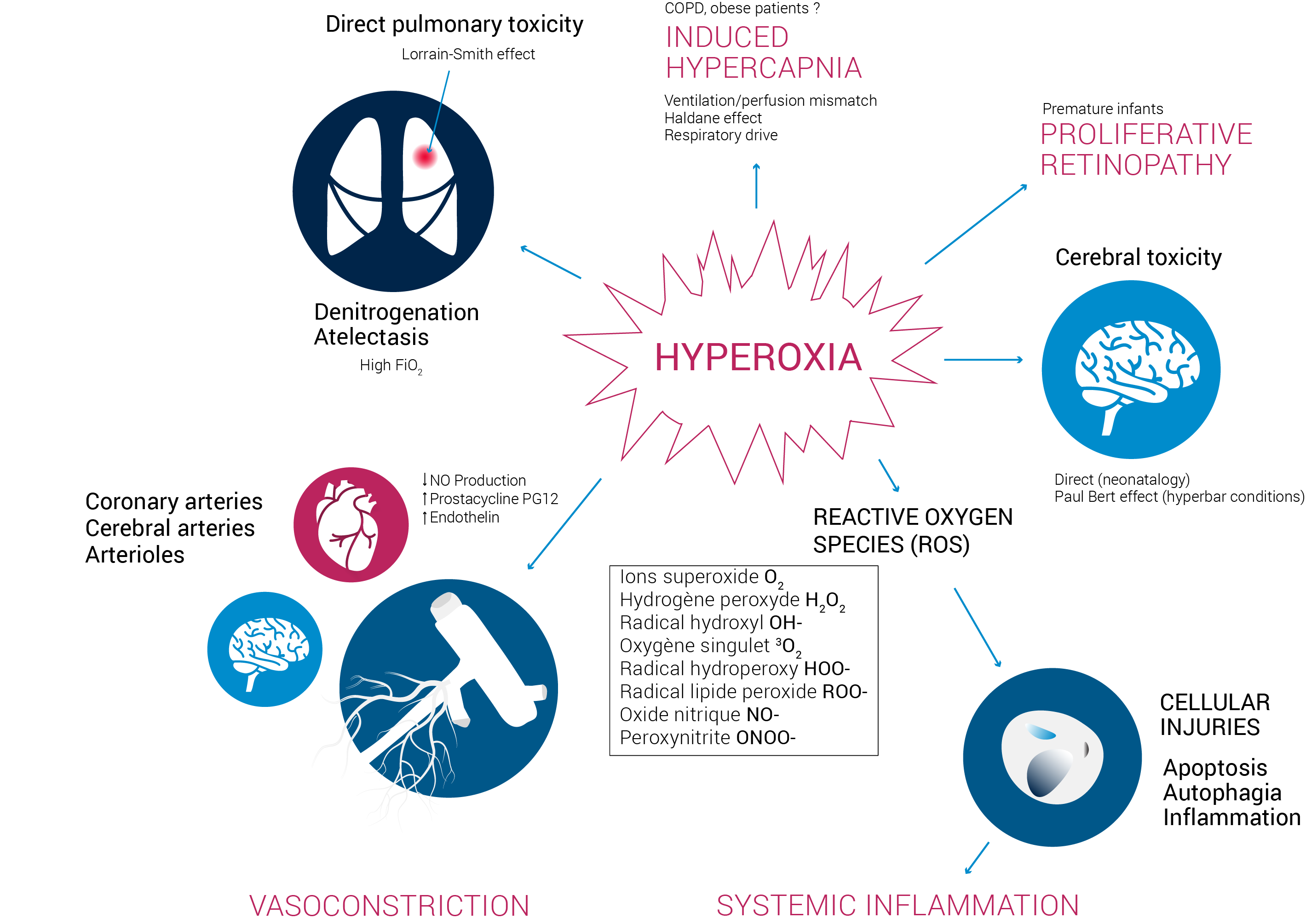 5 Farquhar H, Weatherall M, Wijesinghe M, et al; Systematic review of studies of the effect of hyperoxia on coronary blood flow; Am Heart J. 2009; 158(3):371-377
6 McNulty PH, King N, Scott S, et al; Effects of supplemental oxygen adminisration on coronary blood flow in patients undergoing cardiac catheterization; American Journal of physiology. Heart and circulatory physiology. 2005;288(3):H1057-1062
7 Stub D, Smith K, Bernard S, Nehme Z, Stephenson M, Bray JE, Cameron P, Barger B, Ellims AH, Taylor AJ, Meredith IT, Kaye DM; AVOID investigators..Air versus oxygen in ST-Segment-Elevation Myocardial Infarction. Circulation. 2015 Jun 16; 131(24):214350 
8 Nehme Z1, Stub D2, Bernard S3, Stephenson M4, Bray JE5, Cameron P5, Meredith IT6, Barger B4, Ellims AH7, Taylor AJ7, Kaye DM8, Smith K9; AVOID investigators. Effects of supplemental oxygen exposure on myocardial injury in ST-elevation myocardial infarction. Heart 2016 Mar;102(6):444-51
9 Girardis M, Busani S, Damiani E, Donati A, Rinaldi L, Marudi A, Morelli A, Antonelli M, Singer M. Effect of Conservative vs Conventional Oxygen Therapy on Mortality Among Patients in an Intensive Care Unit: The Oxygen-ICU randomized Clinical trial. JAMA. 2016 Oct 18;316(15):1583-1589